A trip down Notting Hill
booksforcooks

I don't remember exploring much of Notting Hill during my time in London (7 yrs ago as a young almost adult!) But this time round, i knew there were certain establishments i had earmarked to visit and it was exactly where i headed FIRST day of arrival in London. Books for Cooks being certainly one of them! The famous little bookstore that only sells cookbooks from everything to well...everything... I dragged my poor boyfriend (then!) through the rain (the only day of rain we had during our 2 week trip there) to find this store. And from the Notting Hill Tube station, it certainly wasn't the easiest shop to find. Testament to it being an established feature of Notting Hill, the 3 people i stopped to ask in my quest to find it in the rain all knew EXACTLY where it was, albeit with rather complicated (but specific)instructions on how to get there (take the first right, then the third left and walk straight down, then the 4th left and the immediate right)!
I eventually found it, and walked in to stare at all the books that lined the shelves from floor to ceiling! There were food novels, cook books, even a collection of Books for Cooks favourite recipes!
Unfortunately, i did find the cookbooks more expensive than what i could find at Borders, so i managed to refrain from snatching anything off the shelves, apart from the award winning memoir by Nigel Slater called 'Toast' (about his childhood food related memories). I have yet to read it - saving it for a cosy rainy weekend when I'm in need of a comfort soothing read.
books4cooks

books for cooks

My only regret was having lunch before walking in here (pic above). There is a small little unassuming cafe at the back of the book shop where the resident 'chef' tries different recipes from the WEALTH of cookbooks available at the shop. A 3 course lunch for 7pounds would have been a nice treat (and bargain for London standards!)but alas - i was stuffed.
The Spice Shop
- another establishment foodie tourists tend to pay homage to, located right opposite Books for Cooks. I have read that chefs all over London visit this store for hard to find spices ordinarily not available in Tesco's! It's a small little shop packed to the brim with bright yellow tins of Spices. The pungent smell hits you the minute you walk through the door. I asked the shop assistant for peppermint bark (something i cant seem to find in Singapore) but unfortunately she didn't have that (although - that's not quite a spice is it?)
thespiceshop

Just around the corner from Books for Cooks was a delicious looking gourmet store (not unlike Dao Paolo's delicatessen in Holland Village) with the most beautiful array of freshly baked breads/ bagels/ foccaccia and other such goodies. It was all i could do to stop myself from sweeping them all off their pretty displays and doing a runner with them stuffed down my zipped jacket! My heart was willing - my stomach mostly still stuffed from lunch . pity pity pity!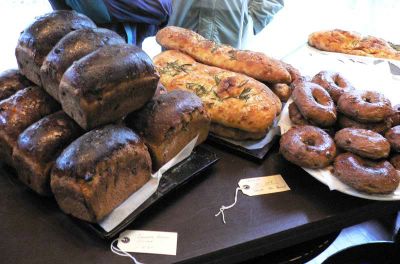 bread galore