A Mammoth dinner for six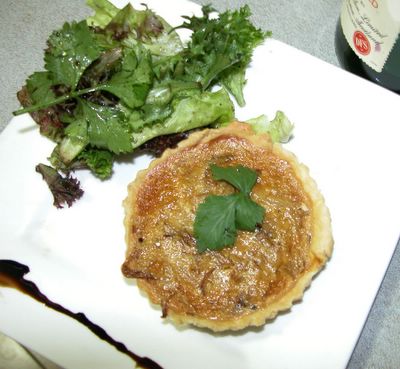 Onion tart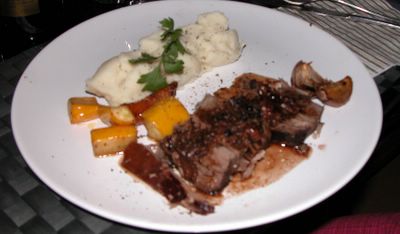 braised beef

Dessert

The real deal

This was for a mammoth dinner i had done for a dinner for 6. It took a huge amount of effort, and involved me standing in the kitchen WITHOUT rest for 8 hours straight.
By the time my guests came, i was all ready to send them right back home. All i wanted to do was sit and stretch out my tired legs with a bag of crisps!
This was a bit of a tricky dinner because my friend's boyfriend who was coming refuses to eat vegetables(the freak!). So the option of tossing a flavourful salad for a starter was not really an option.
I had wanted to try a Braised Beef shoulder for the main meal for which i had a recipe for in my newly purchased book 'The Zuni Cafe Cookbook'.
So here was the menu for the night:
Starter:
Onion tart with a mixed salad dressed with balsamic vinagerette
Main course:
Braised Beef Shoulder Chuck served with buttermilk Mashed potatoes and Glazed Carrots
Dessert:
Phyllatello with Ice Cream and Summer Berries
My pictures don't do justice to how this turned out. The onion tart turned out well, EVENTUALLY. There was a lot of fiddling with the tart pastry, which didnt seem to roll out very well without crumbling into a million dry flaky pieces. I was wary of adding too much water when making the dough because of the constant warning that too much water leads to shrinkage in the oven, but i suspect a bit more water would not have done too much damage. I had to make my tart pastry TWICE - the second time a little more successful than the first!
But overall - i believe it was a success, although a bit heavy for my liking (a lot of cream and eggs added to the cooked onion.
The Main course was a dream. My friend raved about the sauce, which involved an entire bottle of robust Red wine, 1 and a half chickens for the stock (With a lot of flavourful vegetables thrown in), a pork leg added to this concoction after the entire braising had been done (first time i have ever used a pork leg, which certainly seemed to do the trick - this was the alternative to a beef stock, which would have been far more expensive).
The beef was tender (i think the oven time was 4 hours? )although i suspect a TAD overcooked.
The dessert was beautiful. Very fancy schmancy looking without too much hard work as i had used ready made phyllo pastry to make it.
Overall,a successful dinner, but a lot of hard work and incredibly time consuming!