Delicious Tomato Tart
vine ripened tomatoes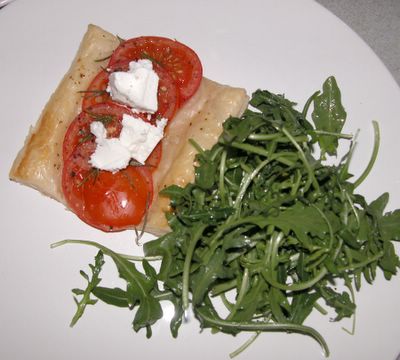 Tomato Tart - the real version!

This is a beautiful starter. It's simple, it looks wonderful, and it doesnt take much time at all (as long as you're willing to use frozen puff pastry instead of making it layer upon buttery layer yourself!)
Vine ripened tomatoes are often seen as the 'superior' tomato and heartily recommended in most cookbooks where tomato is the central feature. However, in Asia - vine ripened tomatoes are helluva expensive, and about 5 times the price of normal (non vine attached) ones. I think there
IS
a distinct difference in flavour, and hence - i splurged this time on proper pricey vine ripened ones to make these tomato tarts.
Basically, the recipe here is simple.
Preheat the oven to 200 degrees.
Roll out the defrosted puff pastry into 3 inch width rectrangles (or whatever size you want really!)
Make an indent with your knife to shape the (left and right hand )border of the pastry (on both sides).
Brush both borders with egg yolk using a pastry brush (so they turn a nice pretty golden after baking).
Slice the tomatoes and place them in the centre of the rolled out pastry.
Sprinkle with sea salt and rosemary.
Put into oven for approx 20 mins.
Remove, and place a dollop of goat cheese on the pastry.
Serve immediately!
Below is the pic of the tart taken from the Magazine
tomatoe tart from mag