The cookbook addiction
Cookbooks!

I first started reading cookbooks as a therapeutic way of winding down my work day during a particularly stressful time at work last year. I had previously been rather stingy with my book purchases - believing that most recipes could either be borrowed or downloaded from the net. But boy - how things can change in a year. One comforting cookbook in bed led to another, and then another... which then progressed to browsing through them on Sunday mornings as a 'therapeutic way' to spend the morning... and it just steam rolled into one big fat obssession with cookbooks. I would lurk around the cookbook shelves of Borders and try not to salivate. Gasp and clutch a book to my chest in pure waves of desire - only to put it away with a sigh.
But not long ago - i received $600 worth of book vouchers for a photo shoot i had done. Oh the glee! The huge amount of lurking i did at borders, clutching at books and the joy of not having to put it back on it's shelves.
I did my research mind you. I have come to realise for example that great pictures do not a great cookbook make (not necessarily anyway). That not all cookbooks are born equal, and some are truly mediocre with mediocre recipes (despite all the hype). That those that might appear daunting at first, might turn out to be the most useful of the lot( and the only reason they appear daunting is because of all that text, that actually serves to take you through step by step, never leaving out the tiniest details.)
So what you see is a pic of some of my recent purchases.
Vegetarian Cooking for everyone is a Mammoth book that is apparently quite the bible for vegetarian cooks (and has won a few awards). i've always wanted to get into Vegetarian cooking, beyond my repertoire of stir fry vegetables and tofu at any rate! I have yet to try anything from this book (and it's one of those with a very limited number of photos), so it should be interesting taking the plunge!
Baking with Julia is one of the best investments i have made as far as cookbooks are concerned. Daunting at first (so much text!) but it truly takes you through every step of the way - ensuring a minimal chance of failure (as long as you are good at following instructions!) i have tried about 7 recipes from this book, and they have all turned out amazing. With the exception of the bagel recipe, which i think is a truly questionable recipe. Otherwise - i would reccomend this book heartily to all avid bakers out there.
The Zuni Cafe Cookbook - This was recommended on 101cookbooks.com - one of my favourite food sites. It's a beautiful book and another one of them that has won a handful of awards. Extremely detailed on everything from how to make salads to meats to desserts. Not only is it an enjoyable read, it is also educational and unpretentious. I tried the braised beef chuck recipe(my first attempt from this book) and it turned out beautifully-so i've got a great start from this one!
Here's a pic of it below: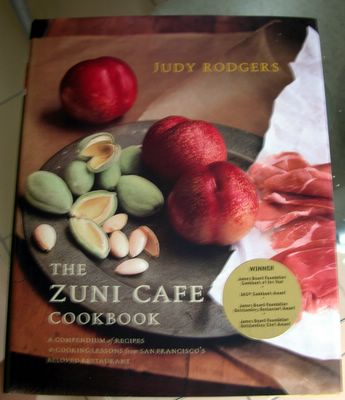 Zuni Cafe Cookbook

Kitchen by Michelle Cranston - i've yet to open this one, but beautiful big book with beautiful pictures and lots of good reviews from other blogs and friends alike so i'm hoping this is going to be another faithful companion.
French Laundry by Thomas Keller - this restaurant of course, has earned it's reputation for one of the finest places in the world for an exquisite meal. I was in Napa Valley last year and never managed to drive that extra half hour to where this restaurant was located. I wasn't on the biggest holiday budget, but would have liked to just peek through the windows anyway. Or maybe beg for some scraps of cheese. But now - i have the book. Incredibly complex recipes and certainly those fit for your most royal of guests. Meals to cook from when you want to truly impress and spend an entire day fiddling about making it. Having said that, the cooks of Saint Pierre love this one - so do other gourmand friends in the 'industry' so i guess it's got rave reviews. Personally, i'm not sure how many I'll be able to attempt from this book. A bit overly fancy for my blood and i suspect i might just end up flipping through it from time to time and sighing wistfully.
So here's a pic of it and a sample of what it looks like inside. Certainly a book almost made to frame.
French Laundry Cookbook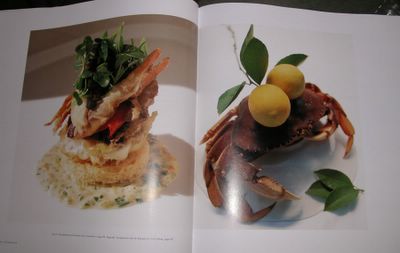 French Laundry cookbook