Whole Wheat Bread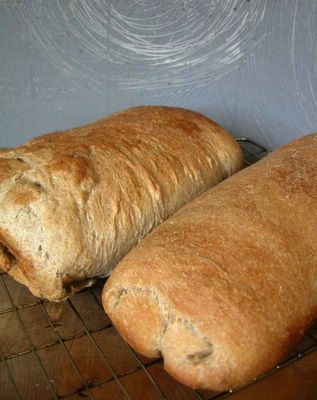 2 loaves!

Some people go to church on Sundays. Some go roller blading. Some have long brunches over champagne (the posh ones!)
I wake up and make my entire Sunday into a day of baking. Somewhere in this twenty something year old body (closer to 30 than 20 mind you), i have evolved from hungover on Sunday to a Sunday baking maniac.
i fear that i am evolving faster than I had imagined. I just hope this party chic hasn't hung up her dancing shoes for an apron for good just yet. I'm starting to wonder if listening to 'intelligent dance music' and dancing to it in the kitchen counts as striking a middle ground?
anyway - back to this Sunday. I decided that i was going to dive into my Baking with Julia cookbook (this purchase is turning out to be really excellent value for money). As i was flipping through it, contemplating the ingredients i had on hand, the time i was going to have to juggle for whatever choice i was going to make, who i was going to give the baked results to, i ended up settling on Whole Wheat bread - a good handy loaf to have on hand over the new few days - good breakfast and sanwich fare, and not particularly complicated.
(halfway through the first rise, i decided i might as well make a bigger mess of my kitchen by embarking on the sticky bun recipe - posting below)
You might have read in an earlier posting about my white bread adventure(from the same book). I have to say I prefer that to how this one tastes. Maybe because this is essentially healthier, and much as I try, i have not re-trained my palate to appreciate whole wheat breads better than the less healthy alternative.
The recipe called for 1 tablespoon of malt extract, which I didn't have, so I left that out altogether (i'm not sure what effect this might have had on the end result). But otherwise, they came out of the oven looking golden brown and wholesome-ly glorious. I had 1 slice with butter, another slice with butter AND honey. A 3rd slice with peanut butter and honey. And a final slice with cheese, tomato and honey. At which point i was officially quite repulsed at my impulsive act of gluttony.
But can you blame a girl who simply can't resist her own sweat filled creations on a Sunday afternoon?