Sticky buns without the Pecan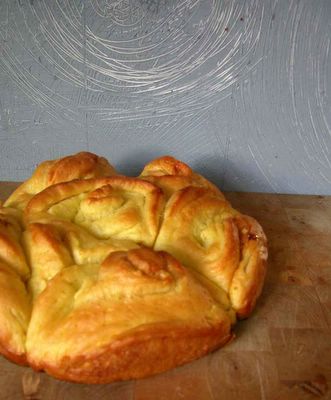 sticky bun

I actually bought the book 'Baking with Julia' BECAUSE of the recipe in the book for sticky pecan buns.
I had made two attempts at Cinammon buns and had been disappointed with the texture of the bread, which had turned out hard and not as 'fluffy' as I'd liked.
I had suspected that adding more butter would have been the secret magic ingredient. Little did i know how much butter this recipe actually called for!
brioche dough

Brioche
This recipe firstly called for a Brioche dough to be made. The pic above is the brioche dough after 2 hours of 'rising' time. It almost looks like a bubbling frothing monster from 'butter' land doesn't it?
Brioche is a light but RICH French bread made with eggs and butter. The crumb is supposed to be delicate and pale yellow in colour. ( i haven't yet tried Brioche because whilst i made the dough, it was soon turned into a sticky bun - which involved adding in a lot more butter / sugar/ cinammon/ rolling and folding etc etc)
Interesting trivia - Marie Antoinette's famous phrase 'Let them eat cake' as callous advise to starving peasants before the French Revolution, was actually a MIS-translation of what was actually reported in French, which was "Qu'ils mangent de la brioche" -'Let them eat brioche.'
Scary to think how you could be mis-transalated in your death.
A whole ten and a half hours
I'm not kidding - i have not made anything else in MY LIFE that took so long.
I started at 2pm - i put the dough into the oven at
midnight.
You're probably thinking i fell asleep somewhere in between.
Nope. Followed the recipe word for word.
There was a lot of waiting time - i have to admit. But making something like this takes a commitment of an entire day - just WAITING for it to be ready.
Let me break it down for you.
2pm. Prepare a sponge. Wait for 30 mins.
2:30pm Start adding flour/ eggs / sugar etc to sponge. Start mixing.
Add butter, one table spoon at a time - continue mixing for another 30 mins.
3pm - let brioche dough rise for 2 hours.
5pm - deflate dough. place in fridge for 4 hours.
9pm - take dough out of fridge. roll out, put on more butter, fold fold, wrap and place in fridge again for another 30 mins.
9:45pm - take out of fridge. Roll out again. brush with egg - sprinkle on follings, fold again, roll into log. place in freezer for 1 hour.
11pm - take out from freezer - slice, place in cake pan. (and just when you think it can FINALLY go into the oven, recipe says... WAIT 2 HOURS FOR rolls to expand in
cake pan.
I couldn't believe it.
And to top it off, recipe ended with 'once removed from oven, cool on rack. Do not eat immediately as sugar from oven can be scalding.' (something along those lines) but all i remember thinking was - AFTER ALL THAT, YOU'RE TELLING ME I CAN'T EAT IT RIGHT AWAY? Damn.
Soft soft bun
Don't mind my bitching. Having said all that - the bun texture (and yes, i pretty much snatched an impatient bite of it straight out of the oven) was soft and fluffy with a hint of buttery crumb (oh, so well disguised despite the truck loads of butter that went into it!! I am almost tempted to say i will never buy another cinammon bun again from a shop -EVER. but i know i would be lying. deep down under my ever expanding waist line).
I didn't have any pecans, so i subsituted mine with sliced almonds - i'm sure it tastes better with pecans though. And whilst this wasn't a recipe for cinammon buns, i know i could probably just pile on the cinammon, and it would be perfect.
This time, i brought it to work the next morning and my colleagues all nodded their heads in approval, making lots of appropriate lip smacking sounds.
Would I make this again?
For the results - yes. But for the time and trauma of having to handle so much butter.... i don't know. Give me some time to get over it.
Lucky i have another log sitting in my freezer!