Saturday brunch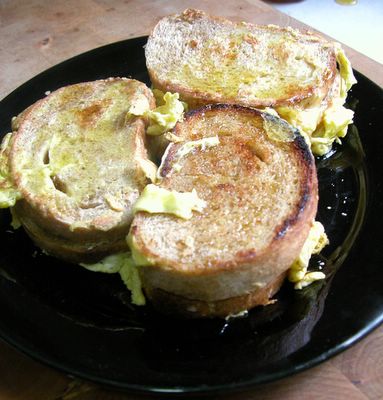 Cheese sandwich

I know this probably doesn't look all that good to you. But believe me, it's a little lunch that completely hits the spot. This was a modified idea from one of the first cookbook purchases I had ever made called the Zingermann's Guide to Good Eating. I have found it completely educational on the beauty of good basic ingredients from salt to pepper to chocolate to cheese, covering everything from it's history and origins to the different varieties available.
This is an indulgent sandwich - indulgent because there's cheese (extra mature cheddar cheese is a big bonus), egg and butter - and not necessarily in stingy amounts either. But that's exactly why it hits the spot! Not to mention i had some of my whole wheat bread leftover and it was DELICIOUS toasted. So do try it someday!
Recipe:
Toast whole wheat bread (white bread is fine too).
Whisk 2 eggs, add in a pinch of salt.
Dip bread in egg mixture.
Heat a non stick pan, add some butter.
Place one piece of bread on pan. Place sliced extra mature cheddar cheese on top of bread. cover with the other piece of bread (creating a sandwich)
Leave for about 1 minute. Flip bread over and cook the other side.
Remove from pan when you see the cheese starting to melt.
Drizzle sandwich with generous amount of honey.
Eat immediately!