My love affair with Bagels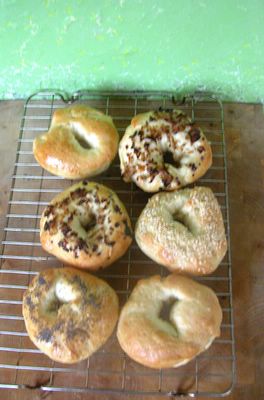 Bagels!

I fell in love with Bagels when i was living and studying in London. There was this dinky little Bagel shop sandwiched in between 2 giant retail outlets just off Oxford Street. It was just round the corner from Top Shop. I tried a toasted poppy seed bagel with bacon and blue cheese for the first time, wrapped up in foil, a warm little package with the blue cheese threatening to ooze out the sides of the bagel.
It was chewy, crunchy on the sides (toasted) and the combination of blue cheese with bacon was nothing short of perfect. plus it was cheap!
Another memory of bagels would be trotting down to a jewish bakery near where i was living with my boyfriend (then) in London, and buying a bag of warm just out of the oven bagels for breakfast. I would take it home in its little brown paper bag, and
Eat it with butter and a glass of orange juice- it was a good life!
Baking Bagels
So when i bought my first book on BREAD, bagels were one of the first things i wanted to make. Bagels don't come by often in Singapore. You do find those Frozen ones in some supermarkets, and i dare say they are not too bad, but really - what can beat freshly baked bagels made by Your very own proud self?
This is probably the 4th time i have made bagels. This is the first time however that i have experimented with different toppings.
THe batch made 6 bagels - i made 2 with onion toppping, 1 with sesame topping, another with poppy seed topping, and 2 plain.
I ate the first one, plain, standing in the kitchen, impatiently split into 2 with my bread knife, the bagel still so hot out of the oven it burnt my fingers. I slathered on the butter and the cream cheese, and had my little piece of heaven.
If you could capture this feeling in a bottle, it would sell by the millions!
Recipe in a sec!
More bagels to come!