Another Sunday delivery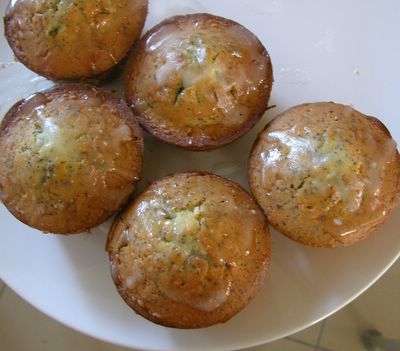 lemon poppy seed muffins

Ever since i complained aloud to some friends about the unavailability of poppy seeds in Singapore, i have had the good fortune of having friends cart back a few bottles for me on their travels. I had 2 more bottles sitting in my cupboard and 2 lemons sitting lonesome in my fridge. So what better combination than to create lemon poppy seed muffins for my weekend muffin delivery.
Except that this time, i used the Lemon poppy seed CAKE recipe taken from the CAke Bible (from Epicurious.com) instead of the Lemon Poppy seed muffin recipe i have from my muffin book. This recipe has already been highlighted in my previous post on poppy seeds.
I modified it slightly with a lemon icing glaze. I loved it. Although i'm still not sure people of Singapore are as keen on poppy seeds as they are on chocolate!