A week FULL of cooking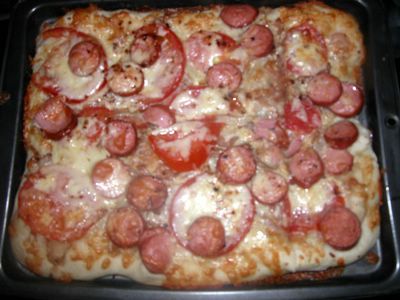 pizza

Let's chart my cooking adventures for the week:
Tuesday:
Home made pizza (Everything from scratch!)
Wed
: 3 course dinner for 4 at my place which comprised of the following:
Starter
Crab Omellete
Edamame
Silken Tofu with grated ginger
Main
Baked Seabass infused with lemon grass and rice wine
Dessert
Warm Chocolate Cake with Vanilla Ice Cream
Saturday:
4 course dinner for 6 at friend's place
I am totally cooked out. I actually walked past a shelve full of new cookbooks today at Borders and almost flinched at the thought of looking at another recipe for the rest of this week!
Good thing it's already Sunday. I'm sure the new cravings to try yet another new recipe will surface soon enough.
Pizza Night
I'm afraid this pic of the pizza looks quite horrendous. Something out of a bad horror full of teenagers and leftover cheap pizza. i almost feel like apologizing to the pizza for completely doing NO justice whatsoever to it's true and simple beauty. It was gorgeous. It totally hit the spot, and I MADE IT ALL FROM SCRATCH.
So you might have detected a smidgen of pride. I've been craving pizza for a while now. and armed with my new 'baking with Julia' cookbook, I was ready to try the pizza dough recipe as my second baking adventure from this book.
The pizza dough was made on a Monday whilst watching yet another few episodes of sex in the city (a newfound discovery for me - yes, i'm behind times,i know).
Dough is really not hard to make - it just takes some careful time planning - you basically need to sit around this bubbling bowl of dough for about 3 hours to see it to its completion. but the operative word here is 'sit around'. There's really nothing to it (especially with a robust little kitchenaid dough hook handy!)
I wrapped the fully risen dough in cling film and refrigerated it overnight, waiting with relish on Tuesday night to experiment with the toppings!
I made 2 different toppings (for 2 different pizza's). The first involved onion confit (recipe also found in Baking with Julia), topped with sliced tomatoes, gourmet pork sausages and a combination of parmesan, mozarella and cheddar cheese.
I had planned to bake this pizza on a terracota tile (the recipe had instrructed for a baking stone - what is a baking stone?) but alas have not managed to find one in Singapore (although truth is that i sent my boyfriend out to find it, and after visiting 2 tile shops, he surrendered proclaiming it was impossible to find!)
So i baked it on a baking tray, which turned out fine, although i'm sure baking it on a tile would have given the 'crisper' effect one normally craves from a wood fire pizza.
The second pizza had a pesto base, topped with sliced tomatoes, sausages, pineapple and the 3 cheeses. I would say I preferred the former combination, but overall - both were delicious, minimised no less by the satisfaction of having made my own pizza of bubbling cheesy heaven!
I'm looking forward to making it again because one can improvise with so many other combinations to come up with a new and interesting pizza! So I do recommend anyone who cares to try this, even if the pic I've posted isn't very appetising!
If anyone wants to know the recipe for pizza dough, let me know and i'll trek to my kitchen and post it.