ox tail stew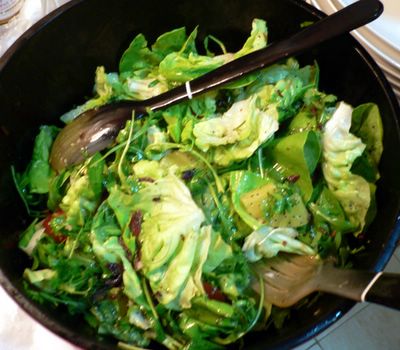 rocket and lettuce salad

profiteroles

The Main course was a total success but I'm going to have to get Steph to post the recipe. The ox tail was also purchased from Tekka market, and was stewed to tender perfection, with the meat falling off the bone and madee flavourful by the carrot celery and onion in the stew.
Lemongrass, Lime and Mint Sorbet
My first attempt at sorbet and have to say i was happy with the results! it was probably sweeter than i would have liked, and the recipe I looked up on the net was for a more 'creamy' variety. Steph suggested that she would have preffered a less creamy version, which probably just means ommitting the full cream milk.
Anyway, it was taken from gastronomicmeditations.com
Below is the recipe:
Serves 8 to 10
Ingredients
1 cup milk
1 cup water
1 cup sugar
5 stalks lemongrass, 1 or 2 outer leaves peeled away, coarsely chopped (yield a generous ¼ cup)
1/2 cup cilantro leaves, gently packed (tender leaf-end stems are okay)
1/4 cup freshly squeezed lime juice
Pinch of sea salt
1 Tbsp Vodka (optional)
2 cloves (optional)
Preparation
Prepare an ice bath, by placing a large bowl filled with ice cubes in the sink. Fill the bowl with cold water.
Put the milk, water, sugar, lemongrass and cilantro in a saucepan. Stir to combine. Bring to a boil over high heat. Remove from the heat and set aside to steep for 10 minutes. Cool the mixture by placing into the ice bath; stirring the liquid frequently.
Pour the cold mixture into a blender or the bowl of a food processor and add the lime juice and sea salt. Process until lemongrass and cilantro are finely ground and incorporated into the mixture. Pour the mixture through a fine mesh sieve into a bowl, extracting as much liquid as possible from the remaining solids.
The Espresso Profiteroles
These did not 'puff' up as much as I'd hoped. I was supposed to be able to divide these in half and put in a scoop of ice cream in each profiterole, but that didn't quite work out, so i scooped a generous dollop of ice cream over 3 profiteroles and drizzled over the chocolate sauce, which still did the job!
These were my THIRD recipe attempt from my Baking with Julia book (i'm getting real good value out of this purchase) and they were called 'Choux Paste'.
If anyone wants the recipe for this, let me know and i'll post it!