My proudest loaf of Bread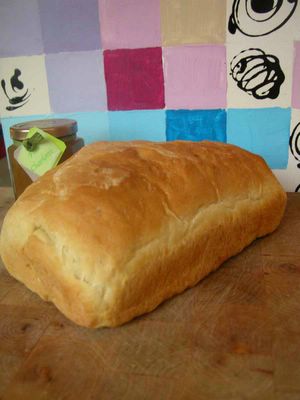 I now know why the phrase 'the best thing since sliced bread' exists. I have finally managed to make a loaf of bread that i can truly say I'm proud of. Eating a slice of this bread fresh out of the oven, warm enough to watch the salted butter melt rapidly into the soft porous texture of the bread had me singing to it. No kidding. I was SINGING to my loaf of bread, humming an unidentifiable tune whilst singing lyrics along the lines of 'you're beautiful'.
You might think I've gone mad, but try this recipe and tell me you disagree. You won't, believe me.
It was taken from a newly purchased book called 'Baking with Julia' that i had spotten in Borders for it's 'sticky pecan bun' recipe (i thought this would give me the sticky soft buns I was looking for from my cinammon bun adventures).
The recipes in this book look a little more complicated than your average baking recipe, but it certainly looked 'credible' and 'professional' and serious enough for me to believe they would produce goodies that would be a cut above the rest.
I haven't tried anything else from this recipe book, but if this bread is anything to go by, I'm telling you bakers out there - go and buy this book!
Anyway, here's the recipe, It's v lengthy, so I'm going to try and summarise it as best I can, but really - it'll be worth your money - go buy the book:
2 1/2 cups warm water
1 tablespoon active dry yeast
1 tablespoon sugar
7 cups *approx) bread flour
1 tablespoon salt
1/2stick unsalted butter, at room temperature
mix yeast, sugar and 1/2 cup water in a bowl, whisk to blend.
Working with a mixer with dough hook in place, add remaining 2 cups water and about 3 1/2 cups flour. Mix on low speed.
Add 3 1/2 cups more flour, increase mixer speed to medium and beat until dough comes together.
Add salt and continue to beat and knead for about 10 mins.
When dough is thoroughly mixed, add the butter, a tablespoon at a time.
First rise
Please dough in a large buttered or oiled bowl. Cover bowl with plastic wrap and let rise about 45 mins to 1 hour.
Shaping the dough
deflate dough, and then divide dough into 2 and work with one piece at a time. Rolll out each piece into a rectangular shape. Fold in dough on both sides (vertically) to meet in the middle. Fold in half again and seal the seams. Shape to fit into a loaf pans. Repeat wih other half of dough
Second rise
Cover loaf with oiled plastic wraps and allow to rise in a warm place until they double in size again.
Preheat oven to 375 degrees.
When loaves are fully risen, bake for 35 to 45 mins.
This bread makes FANTASTIC toast. The butter in it apparently allows the bread to toast to a honey golden brown,