Blueberry and Lindt Dark Chocolate Muffins
Blueberry dark chocolate muffin

Another installment of muffins for this weekend's delivery. I had bought a packet of Blueberries last week. I have avoided doing so for a while, figuring that it wasn't financially viable for my 'muffin business' to use a fruit that was sold at such a high price in Singapore. I wasn't sure what recipe to use for these blueberries. I had a recipe downloaded from baking911.com that asked for 1 pint of blueberries (i had 125g of blueberries and was pretty sure that didn't translate to 1 pint), so i quickly discarded the recipe.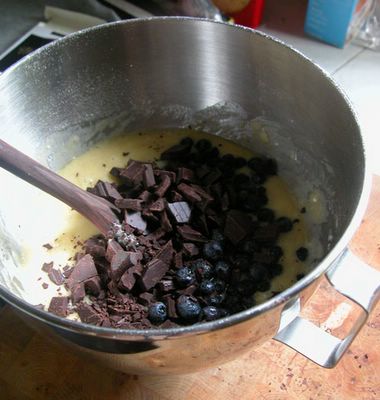 The batter mix

I decided to 'live on the wild side' for this one, adapting from a recipe I had seen for rasberry and white chocolate muffins, figuring that replacing this with blueberries and dark chocolate couldn't be too much of a bad thing.
Although the picture shows a fairly decent looking muffin, what it doesn't show was that they actually have tattered bottoms.
When I tried to lift the muffins out of their tins, they crumbled and collapsed, the bottoms sticking to the pans and crumbling as I tried to ease them out of their moulds.
I'm not sure what was the cause. My guess is a few things: the blueberries and dark chocolate chunks were too large, resulting in the muffin not holding together easily, -or perhaps it was the sort of muffin that had to be baked in their paper lined cups (as advised in the recipe).
The combination tasted fine, but the use of canola oil somehow didn't taste right. Not my best attempt, which is why I won't bother including the recipe. I don't think i'll try this again. Because of the crumbling bottoms, I couldn't deliver these and had to bake a whole new batch for Sunday's delivery!
But if anyone's curious to try these, let me know and I'll post the recipe (For rasberry and white choc muffins!)
A big waste of good quality Lindt Chocolate too!