Wednesday night dinner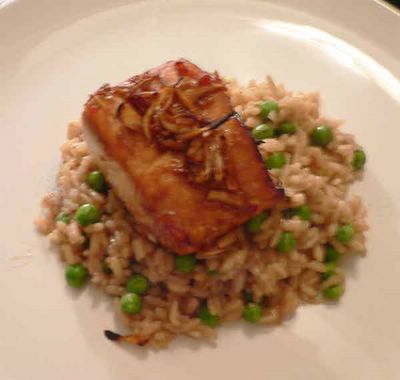 Grilled Salmon & Risotto

I was off from work and figured i had no excuse not to make an effort for dinner that day. I decided to veer off the weekday routine of making healthy salads and decided instead on a salmon and risotto combination.
I had been meaning to make a vegetarian risotto for a while because i had some good vegetable stock frozen in a small tupperware in the freezer (made with a generous portion of leek/ corn/ tomatoes/ bay leaf/ carrot and assorted herbs).
This risotto was a healthy variation (no butter and no parmesan to stir in at the end) - a small dash of olive oil to sautee the chopped onions - and the rest of it was just stirring the carnaroli rice (i had bought this at a gourmet shop a while back) with the vegetable stock.
The peas were stirred in at the last minute, lending additional texture to the risotto and some nice colour!(and i guess it provided some added 'vegetable' nutrition - although i'm always doubtful that frozen peas have any sort of nutrition?)
Easy Peasy salmon
This salmon is the easiest and most delicious thing to make. I had read the recipe in one of my Delicious magazines.
Simply chop up some ginger and garlic, marinate with the salmon together with a dash of sweet chili sauce, (i used the Thai variety) soya sauce and oyster sauce. Leave in the fridge for about half an hour to marinade.
When the risotto was almost ready (it took about half an hour), i heated the grill plonked the salmon under the grill for about 10 mins. There's no need to flip it over or anything of that sort. Just leave it be - you'll know when it's ready when you poke a little at the flesh and the inside doesn't look raw, but pink and juicy. be careful not to over grill it! i'm v particular about overcooked fish, which end up losing their 'juiciness'.
I would like to believe that this was a healthy dinner overall (unless of course you're still on the Atkins mantra - but my thoughts on Atkins - he's dead! get on with it!) and it felt like i had whipped up a fancy restaurant meal right in the humble confines of my home in under an hour.
i ate my dinner in a glow of self satisfaction!