The Ultimate Chocolate Cake!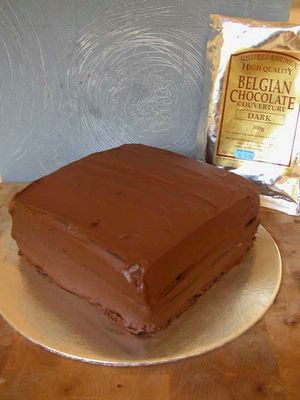 Dark Velvet Chocolate Cake


My First Cake Order
My cooking 'partner' Steph, had been sharing our cooking escapades with a friend that she roller blades regularly with called Gary. During one of their blading sessions recently, Gary said to her that his boss's birthday was coming up - would both of us be up to the task of delivering a birthday cake for her? Steph checked with me, and i said sure - absolutely why not? (i was rather flattered that Gary had so much confidence to order a cake from me - for a boss's birthday no less!)
The best cake i have ever made is a dense, rich chocolate cake i had found on a great baking site called baking911.com The excerpt on the recipe page (by someone called Tami Smith) had said 'This is the recipe i have won many chocolate cake competitions with! ... This cakes is a dense cake, very moist, dark and the essence of a chocolate cake experience. It's not an everyday cake, but better saved for that special occassion'
Let me tell you - the recipe for this cake delivers EXACTLY as she says. It's dense, very moist, dark - a complete chocolate explosion. You know the famous scene from When Harry Met Sally - Meg Ryan could well have been eating this cake. If you're a chocolate lover, this cake is the big Multiple O.
What's different is that this cake contains double strength coffee - which i think makes it darker and denser. It was also advised (on the site) to pair this cake with Chocolate buttercream, for which i used Fine Quality Dark Belgian Couverture Chocolate my friend Mik had carted all the way back for me from London (featured in the background of the pic)
Precious Chocolate
Couverture chocolate basically means 'covering' in French. It has a higher percentage of cocoa butter than ordinary chocolate, making it 'melt in your mouth' and as a result makes for glossier coatings and a richer flavour. It is the most precious thing sitting in my fridge, and my dear friend Mik has been my 'deliverer' of hard-to-find couverture chocolate for a while now. Baking 911.com describes couverture chocolate as 'Mainly used by Professionals' - which always gives me a false sense of superiority as i think to myself 'professional! yes, me, that's me!' as i lick the remains of that divine melted bowl of chocolate.
It's commmon knowledge that the better the chocolate, the better the end result - so for a big project like this (for which i was going to be PAID for, ) i knew it called for me to part with one of my precious supplies of chocolate sitting stashed away in my fridge).
The recipe for this cake is a big one - it makes 2 square tins of cake - but given that my 'brief' was for a party of 20 people, i wasn't even sure if the cake would be big enough (as it turned out, it was big enough for 30!)
I placed a layer of Chocolate buttercream between the 2 cakes, then coated the entire '2 tier' cake with a generous slathering of chocoalte buttercream, hunched over the cake as i tried to make the icing as smooth and presentable as possible with my metal spatula.
I'll have you know that i started making this cake with Steph's help at 10am.
At 2am, i was still laboriously working on the icing, fully conscious of the fact that this was my first 'commercial' order and therefore in need of the greatest amount of 'professional' effort I could muster in my sleep deprived half delirious state.
I had problems with one of the square cakes. i think i had not buttered the base of the tin enough, and despite letting it cool in the pan for over 10 minutes after it came out of the oven (as suggested) it still refused to fall out of the tin. After much shaking about (ok, after a few attempts, i started getting impatient and might have started thwacking it on the kitchen counter top), it finally fell out - but in a bit of a cracked state (understandably), with a big chunk still stuck to the cake tin. It was probably at this point that I might have started hyperventilating a bit (the heat from the oven might not have helped).
Thank god for the Chocolate buttercream, which certainly helped to cover up a lot of the cracks, and after chilling the cake, the butter cream soon solidified and helped to hold the cake together as a big proud square chocolate temptation.
I wasn't as confident about this cake as I perhaps should have been. I had big plans to actually do the 'Happy Birthday Susie' writing on the cake, but was too afraid of messing up the iced cake (with zero experience on writing with icing - another project for another day), and decided i was going to whisk the cake to Bread Talk and beg them to write on it for me before delivering it that day.
I saw Steph that night and told her to sms Gary after he'd eaten the cake to ask what the verdict was from his boss and 20! colleagues. I was actually quite nervous that they might not have liked it as much as I'd hoped, but as it turns out, i had nothing to worry about. They loved it - and his boss was more than happy to take home the remainders of the cake to her family.
So Would i do this again? I'm not sure. It was a hell of a lof of effort and stress to be going through in the middle of the night. But maybe it'll get easier - like everything else, with practise. For now - a weekend delivery of muffins is probably more than i should handle for now.