Super Rich Chocolate Tart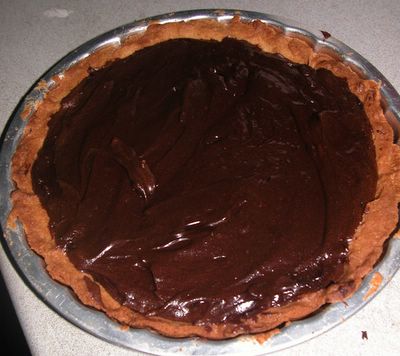 Chocolate Tart

I have not done justice with this photo. Right now, all you probably see is some brown muck sitting in ratty looking pie crust. But in reality, this was a totally sinful, rich and gooey indulgence of the most wicked variety. And a success at first attempt!
This is the first recipe i have ever made from 'The Art of the Tart' by Tamasin Day Lewis. It's a beautiful book that i had purchased a few months back upon the recommendation of my cousin. Many of the recipes in the book unfortunately, use a lot of recipes that are either not readily available in our tropical climate, or extremely expensive to buy in Singapore (fresh apricots, nectarines, peaches, artichokes, prosciutto).
What to bring for dessert?
I was going to a 'pot luck' BBQ at a friend's place on Sat night. We've had a few 'fancy' barbeques here before and it's a GREAT place - a gorgeous colonial bungalow with an outdoor area complete with a gas fire BBQ pit and a graceful banyan tree shrouding the wooden decked outdoor surroundings.
It was 'pot luck' style and as there were a few cooks in the group, the menu was a little more than the average barbeque fare:
The Menu
Oven baked parrot fish with a chili & 'kicap manis' dip
Lamb wrapped in bacon and rosemary orange puree
Pork Slouvaki
Watercress salad with avocados, cashews and grapefruit
Gourmet pork sausages
Potato salad with capers
Squid with a lemon / mint and chili olive oil dressing (my contribution!)
Pita Bread (cooked on the pit ) - my contribution!
Tofu with spicy thai condiments
Japanese potato
As you can see- even though there were 10 of us - we were all hardly able to move after the 'first' round of goodies were laid out on the table.
I have to say that my contributions were a total success (the squid was divine, and the pita bread- i had made them once before - were a firm favourite)
But what i'm trying to come to is - having thought about what everyone was bringing for the night, i realised there was a large gaping hole in the menu - 'dessert'!
Ideally, something light to finish off the large heavy spread that we had was probably more appropriate, but having seen this chocolate tart in Tamasin Day Lewis' book, I was hooked on wanting to make it.
The Evil Ingredients of this Tart
Let's see- the crust was a 'pate sucree' as they call it - sweet shortcrust pastry with 225g flour, 150g butter,3 egg yolks (i think?) and 75g icing sugar.
The chocolate filling itself required 200g of bitter chocolate, another huge block of butter (another 150g i think?) another 3 eggs, 2 more egg yolks, a big pouring of caster sugar. It was quite positively shocking but you know what - it was worth it.
Another thing- i used free range eggs in view of my vegetarian friend Leslie who has never been able to eat my desserts because she can't eat non free range eggs.

The End Result
I was almost sure this dessert was going to fall apart because the pate sucree was incredibly hard to roll out as it was so buttery and soft. As i tried laying it into the pie tin, it started breaking into bits and i ended up having to patch all the broken bits together in the tin.
However, after baking in the oven (for longer than the 25 mins it had specified in the recipe) the crust came out a nice golden brown with a crisp 'biscuity' taste.
The end result was a super rich Chocolate tart with a crisp sweet biscuit base and a gooey thick chocolate filling. Tamasin Day Lewis described this recipe as 'If there is a heaven, this is it'. It is the ultimate chocoholic's indulgence.
Of course, it helped that I splashed out by using the Lindt Bitter Chocolate (85% cocoa) that i had been saving in my fridge for a few weeks now. My friends are certainly a pampered and privileged lot!